Posts for: September, 2016
By Fiore Dental Associates
September 16, 2016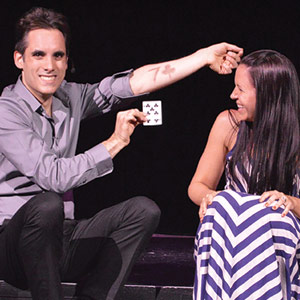 Magician Michael Grandinetti mystifies and astonishes audiences with his sleight of hand and mastery of illusion. But when he initially steps onto the stage, it's his smile that grabs the attention. "The first thing… that an audience notices is your smile; it's what really connects you as a person to them," Michael told an interviewer.
He attributes his audience-pleasing smile to several years of orthodontic treatment as a teenager to straighten misaligned teeth, plus a lifetime of good oral care. "I'm so thankful that I did it," he said about wearing orthodontic braces. "It was so beneficial. And… looking at the path I've chosen, it was life-changing."
Orthodontics — the dental subspecialty focused on treating malocclusions (literally "bad bites") — can indeed make life-changing improvements. Properly positioned teeth are integral to the aesthetics of any smile, and a smile that's pleasing to look at boosts confidence and self-esteem and makes a terrific first impression. Studies have even linked having an attractive smile with greater professional success.
There can also be functional benefits such as improved biting/chewing and speech, and reduced strain on jaw muscles and joints. Additionally, well-aligned teeth are easier to clean and less likely to trap food particles that can lead to decay.
The Science Behind the Magic
There are more options than ever for correcting bites, but all capitalize on the fact that teeth are suspended in individual jawbone sockets by elastic periodontal ligaments that enable them to move. Orthodontic appliances (commonly called braces or clear aligners) place light, controlled forces on teeth in a calculated fashion to move them into their new desired alignment.
The "gold standard" in orthodontic treatment remains the orthodontic band for posterior (back) teeth and the bonded bracket for front teeth. Thin, flexible wires threaded through the brackets create the light forces needed for repositioning. Traditionally the brackets have been made of metal, but for those concerned about the aesthetics, they can also be made out of a clear material. Lingual braces, which are bonded to the back of teeth instead of the front, are another less visible option. The most discrete appliance is the removable clear aligner, which consists of a progression of custom-made clear trays that reposition teeth incrementally.
How's that for a disappearing act?!
If you would like more information about orthodontic treatment please contact us or schedule an appointment for a consultation. You can also learn more about the subject by reading the Dear Doctor magazine article "The Magic of Orthodontics."
By Fiore Dental Associates
September 15, 2016
Dental Implants Help Restore Function to Your Bite
Your smile is one of the first things that someone notices about you, and a missing tooth or multiple teeth can put a damper on that first impression. Dental implants are artificial tooth roots used to
support a restoration for a missing tooth or teeth, helping to stop or prevent jaw bone loss. By replacing missing tooth roots, dental implants provide people with the strength and stability to eat all the foods they love without struggling to chew. Dental implants can also stimulate and maintain jaw bone, preventing bone loss and helping to maintain facial features. With a visit to your dentist in Wakefield, you can find out if you are a candidate for this smiling saving procedure.
Your Wakefield Dentist Explains How Implants Work
Strategically placed, dental implants can be used to support permanent bridges, eliminating the need for a denture. Implants are synthetic structures that are placed in the tooth where the root normally is contained. They are anchored to the jawbone or metal framework on the bone and act as a foundation for an artificial tooth or permanent bridge. In some cases, dental implants can also be used to attach dentures.
Dental implants today are virtually indistinguishable from your other teeth. The appearance is aided in part by the structural and functional connection between the dental implant and the living bone. Implants are typically placed in one sitting, but require a period of osseointegration, which direct anchorage of the implant root and the bone of the jaw occurs.
Osseointegrated implants are the most commonly used and successful type of dental implant, taking anywhere from three to six months to anchor and heal. Once healed and anchored, your dentist in Wakefield can complete the procedure with the placement of a crown. As soon as the implant has anchored with the jawbone, artificial prosthesis may be attached and the process is completed. If osseointegration does not occur, the implant may fail.
Advantages of Dental Implants
If you, like millions of adults, have lost one or more teeth, then you understand the unpleasant consequences that accompany tooth loss. Missing teeth result in an older appearance, discomfort, inconvenience and an overall less active lifestyle.
Since implants are securely attached, you gain confidence to eat what you like, speak clearly and freedom from embarrassment. Other benefits of implants include:
Improved Appearance: Dental implants look and feel just like your own teeth.
Improved Comfort: Implants are securely anchored, so there is no slipping as there is with dentures. This eliminates some of the key inconveniences of dentures, including poor fit, gum irritation, and pain.
Improved Health: Dental implants can help prevent deterioration of the jawbone caused by loss of teeth, so your face retains its natural shape.
Durability: Implants are strong and can last a lifetime with proper care.
Convenience: Unlike dentures, dental implants are permanent, eliminating the inconvenience of removing your dentures. With implants, you can brush and care for your teeth just as you would your natural teeth.
Not everyone is a good candidate for dental implants. If you've lost one or more of your natural teeth, it's possible to continue to live confidently with dental implants from your dentist in Wakefield at Fiore Dental Associates. They look and feel exactly like your natural teeth, and unlike conventional restoration solutions, implants can last a lifetime.